THE VARIETIES OF PSYCHEDELIC EXPERIENCE
Robert Masters & Jean Houston
AKA 'The Varieties'. A comprehensive and tactful academic treatise of psychedelic experience based on guided sessions with hundreds of healthy well-educated subjects. The words between these pages reveal the elusive and multifaceted effects of classical psychedelics for all to witness in plain, worldly English, leaving no stone un-turned. Easily one of the most masterful scholarly works ever written on visionary experiences. Authentic, intimate, highly sensible, judicious in its humour, and brimming with articulate archetypal examples. A highly accessible classic that stands the test of time–an audacious monument in terrain otherwise brimming with myst and fairytales. If nothing more, it defies the ineffable. One of the single most important books ever written, and worth changing your mind about picking up Pollan this winter.
THE ANTIPODES OF THE MIND – CHARTING THE PHENOMENOLOGY OF THE AYAHUASCA EXPERIENCE
Benny Shanon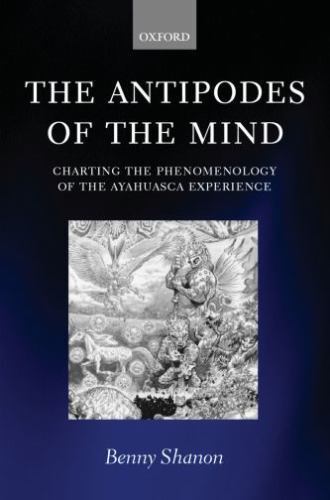 Another outstanding staple. From the book description: This is a pioneering cognitive psychological study of Ayahuasca, a plant-based Amazonian psychotropic brew. Benny Shanon presents a comprehensive charting of the various facets of the special state of mind induced by Ayahuasca, and analyzes them from a cognitive psychological perspective. He also presents some philosophical reflections. Empirically, the research presented in this book is based on the systematic recording of the author's extensive experiences with the brew and on the interviewing of a large number of informants: indigenous people, shamans, members of different religious sects using Ayahuasca, and travellers. In addition to its being the most thorough study of the Ayahuasca experience to date, the book lays the theoretical foundations for the psychological study of non-ordinary states of consciousness in general.
PHANTASTICA – A CLASSIC SURVEY ON THE USE AND ABUSE OF MIND-ALTERING PLANTS
Louis Lewin
From the book description: The publication of Louis Lewin's Phantastica in 1924 began an era of ethnobotany that is still flourishing today. Until Lewin, books on the use of drugs were purely works of anthropology, concerned with how people used these plants, rather than how the plants produced their famous effects. Lewin, a world-renowned pharmacologist and toxicologist, was fascinated by both, and Phantastica was the first book to bring scientific insights to a survey of the use of drugs around the world. Lewin traveled extensively and acquired an astonishing variety of knowledge, reflected in this book, which provides detailed information on all major drugs of the time, including opium, cocaine, heroin, cannabis, peyote, fly agaric, henbane, datura, alcohol, kava, betel, coffee, tea, cocoa, and, of course, tobacco.
THE SCIENCE OF MICRODOSING PSYCHEDELICS
Torsten Passie
Great scholarly book by a great scientist. A lot like his and Hintzen's The Pharmacology of LSD – more of a dense and detailed work of science than a casual coffee table read. Includes a much needed discussion on the sub-perceptual idea. Outlines prior research with psycholytic and active placebo doses of various psychedelics.
MESCALINE – A GLOBAL HISTORY OF THE FIRST PSYCHEDELIC
Mike Jay
From the book description: This eye-opening history of mescaline extends from the ancient Americas to the present day. Offering a rich narrative of mescaline's many lives, Mike Jay draws on botany, pharmacology, ethnography, and the mind sciences as he explores how its mind-altering properties have been used by shamans, scientists, artists, and philosophers.
ONE RIVER – EXPLORATIONS AND DISCOVERIES IN THE AMAZON RAIN FOREST
Wade Davis
Harvard scientist and anthropologist Wade Davis was the protégé of the eminent biologist and celebrated explorer Richard Evans Schultes, known as the father of modern ethnobotany (whom brought 30 000 plant specimens back from the Amazon, 2000 of which were medicinal plants previously unknown to science). Described as "a rare combination of scientist, scholar, poet and passionate defender of all life's diversity," Wade is one of the most talented and dexterous linguistic craftsmen of our time, and we are beyond blessed to have such an articulate mind to tell the tale of Richard Evans Schultes and his legacy through his own eyes and through experiences with the man himself.
Wade Davis is also well-known for discovering the phenomenon of zombis in Haitian vodoun culture, which he told inThe Serpent And the Rainbow.
BEHAVIORAL NEUROBIOLOGY OF PSYCHEDELIC DRUGS
Adam L. Halberstadt, Franz X. Vollenweider, David E. Nichols (Eds.)
Medical volume. Each chapter is an independent academic research paper. From the back cover: This volume brings together the latest basic and clinical research examining the effects and underlying mechanisms of psychedelic drugs. Examples of drugs within this group include LSD, psilocybin, and mescaline. Despite their structural differences, these compounds produce remarkably similar experiences in humans and share a common mechanism of action. Commonalities among the substances in this family are addressed both at the clinical and phenomenological level and at the basic neurobiological mechanism level. To the extent possible, contributions relate the clinical and preclinical findings to one another across species. The volume addresses both the risks associated with the use of these drugs and the potential medical benefits that might be associated with these and related compounds.
HANDBOOK OF THE BEHAVIORAL NEUROBIOLOGY OF SEROTONIN
Christian P. Müller & Barry L. Jacobs (Eds.)
Medical volume. Each chapter is an independent academic research paper.
The work is divided into four parts:
1. Functional anatomy of the serotonergic system.
2. Review of the neurophysiology of the serotonergic system and its single components.
3. Involvement of serotonin in behavioural organization.
4. Serotonin in behavioural pathologies and psychiatric disorders.
DRUGS AND BEHAVIOR – AN INTRODUCTION TO BEHAVIORAL PHARMACOLOGY
Stephanie Hancock & William McKim
A well-organized textbook on the fundamentals of how drugs work. From the book description: Stephanie Hancock describes basic pharmacological concepts of drug administration and pharmacokinetics, research methodology and clinical trials, tolerance and withdrawal, drug conditioning, addiction processes, and the neuroscience of drug action. In each chapter, these concepts are applied to different classes of recreational and therapeutic drugs within a historical and social backdrop. The Eighth Edition has been substantially revised and updated to include the newest research findings and real-world examples related to drug use and addiction.
THE COMPASS OF PLEASURE

David J. Linden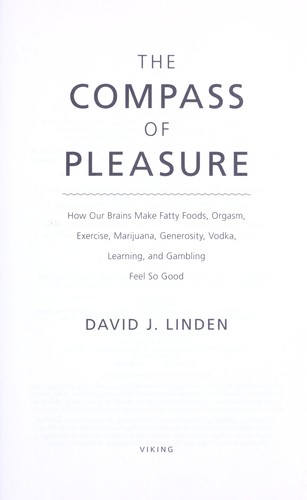 Introductory psychology. This book is a fun read and a good undergraduate introduction to the neuropsychology of why we like and want what we do.
Dr. Linden is a neurobiologist and professor of neuroscience at the Johns Hopkins University School of Medicine, editor in chief of The Journal of Neurophysiology, and has published other works such as The Accidental Mind: How Brain Evolution Has Given Us Love, Memory, Dreams, and God